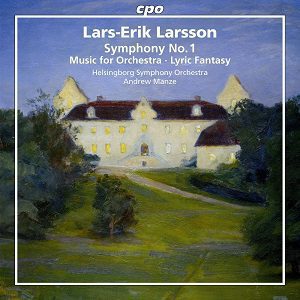 Andrew Manze Leads Larsson Revival
Swedish composer Lars-Erik Larsson is not well-known outside of his native country, but this new series from CPO may change that. Larsson is part of the generation immediately following Sibelius, and follows him stylistically as well.
Larsson's works are decidedly neo-romantic, with rich harmonies and expansive melodies. His Symphony No. 1, written in 1927, is the centerpiece of the album. This four-movement symphony is a youthful work, full of excitement and high spirits. And yet it's also tightly constructed, with clear-cut melodies and masterful (albeit straight-forward) orchestration. To my ears, the overall sound resembles the symphonies of Nielsen, with a more lyrical bent.
The other works help present a more rounded portrait of the composer. The Music for Orchestra, written two decades (and world war) after the Symphony, has a sparer, more somber sound. Larsson stretches the limits of tonality, and imbues a restless energy into the work.
Four Vignettes to Shakespeare's "The Winter's Tale" is an attractive, tuneful work, reminding me Larsson's colleague, Dag Wiren,  in its beautiful simplicity.
Andrew Manze leads the Helsingborg Symphony Orchestra with authority. He's made a deep study of Larsson's music, and that understanding ensures that these works receive sympathetic readings. This is a strong start to what should prove to be an important series. Larsson's music deserves a place alongside that of his more famous Scandinavian colleagues.
Lars-Erik Larsson: Symphony No. 1 — Orchestral Works, Vol. 1
Helsingborgs Symfonionkester; Andrew Manze, conductor
CPO SACD