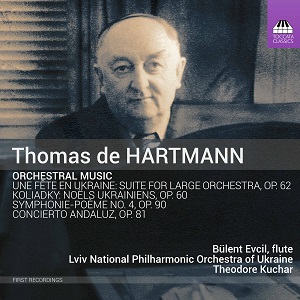 Thomas de Hartmann Orchestral Music a Revelation
Thomas de Hartmann's career was not a straight path. He was born in Ukraine in 1884. When he began showing talent at age eleven, he began lessons with Anton Arensky. He also studied with Nikolai Rimsky-Korsakov and Sergei Taneyev. But he didn't remain in Russia to take his place among Soviet composers.
He and his wife became disciples of Russian mystic G. I. Gurdjieff. They followed him to Paris, Berlin, Constantinople, and other cities in Europe. De Hartmann's promising career as a composer soon withered.
Eventually, the de Hartmanns and Gurdjieff went their separate ways. De Hartmann moved to America after World War II. He was in the midst of a comeback as a serious composer when he died in 1954.
This release provides a fine overview of this often-overlooked composer. It includes two Ukraine-inspired works from 1940 and two postwar compositions.
Koliadky: Noëls Ukrainiens, Op. 60 isn't quite what it seems. Koliadky (Carols) isn't a collection of Ukranian folk music. Rather, it's original material de Hartmann channels through the traditions of said music. Koliadky is a beautiful work. And it captures the spirit of Ukrainian Christmas tradition.
Une Fête en Ukraine is an orchestral suite of music from a one-act ballet. Here de Hartmann depicts the celebration surrounding a visit by Catherine the Great. Again, de Hartmann doesn't quote any dances of the period but creates new melodies for the old forms.
De Hartmann's postwar selections show a composer perfectly familiar with modern idioms. But one who picks and chooses which aspects he wants to use. The Symphonie-Poème No. 4 has a sparse, modern sound while remaining solidly tonal. Concierto Andaluz for solo flute, percussion, and strings has a hint of Rodrigo, but only just. As with Ukrainian folk music, de Hartmann uses Spanish music as a starting point for his own work.
The Lviv National Philharmonic Orchestra of Ukraine has a nice full sound. The recording has a lot of room ambiance, but it works. It sounds like these compositions have room to breathe.
This is fascinating music from a composer I had never heard before. I'm very glad to see there's a volume two already in the works.
Thomas de Hartmann: Orchestral Music
Koliadky: Noëls Ukrainiens, Op. 60; Symphonie-Poème No. 4, Op. 90
Concierto Andaluz for solo flute, percussion, and strings, Op. 81
Une Fête en Ukraine: Suite for Large Orchestra, Op. 62
Bülent Evcil, flute
Lviv National Philharmonic Orchestra of Ukraine; Theodore Kuchar, conductor
Toccata Classics