Renee Fleming and Olga Kern at the Paramount
When it was announced that opera star Renee Fleming and pianist Olga Kern would appear at the Paramount in Charlottesville on February 20, a sellout was virtually guaranteed. Renee Fleming is one of opera's brightest stars, and having an internationally known soloist like Olga Kern as her accompanist was an added bonus. Fleming is one of a few classical artists who can sell out almost any venue anywhere in the world.  Having her add Charlottesville to her current U.S. tour is a tribute to the Paramount's attraction as a concert venue.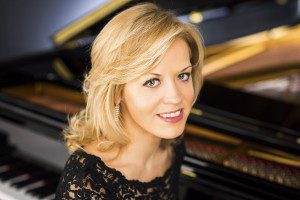 Fleming is nearing the end of her operatic career (she has announced that she is adding no new engagements), but she continues as a recitalist. Following in the footsteps of her predecessor Beverly Sills, Fleming is also becoming involved in arts administration. She is also planning to appear in a non-singing role in a new Broadway comedy production.
But a full house braved the cold to hear her sing.  Fleming is beautiful, glamorous, and, best of all, has a charming stage presence. She was complimented by Kern, who is a young, blonde, and beautiful Russian pianist, a formidable soloist in her own right. Not so much a collaboration between soloist and  accompanist, Kern and Fleming carried on a dialogue between two artists who were well attuned to the mood of the music.
The program was chosen to show Fleming to best advantage. The vocal range lay mostly within her rich middle register, the extremes of her soprano range having become less reliable in recent years. The first half of the program was devoted to Schumann's song cycle Fraudenliebe und Leben, a work of subtlety and contrasting colors that has been sung by the finest singers (Ferrier, Lehmann, and Baker, to name just a few).
Fleming's program was largely upbeat, even lighthearted, overall except for the last song of the cycle, Nun hast du mir den ersten Schmerz getan ("Now thou hast given me, for the first time, pain"), which was the only time a darker mood appeared.  Fleming sang the cycle with a vocal warmth and finesse that belied the cold outside, aided immeasurably by Kern's sensitive accompaniment.
After intermission Fleming sang a group of songs by Rachmaninoff that are not all that frequently performed, although undoubtedly well known to Kern. Some of her finest work was in these songs, which feature, not surprisingly, the kind of virtuosity with which Rachmaninoff was associated.
Fleming saved the best for last.  Some of her finest roles (Arabella, the Marschallin, Ariadne) have featured her in the music of Richard Strauss.  She acknowledged her affinity for his music on stage and sang a set of his orchestral songs, adapted for piano accompaniment.  It was singing of a very high order, reflecting her love for the music of the composer. Kern's playing left one hardly missing the orchestra.
The encores predictably were crowd-pleasers (I Could Have Danced All Night, Summertime, O mio babino caro), but these familiar songs revealed one of Fleming's few unattractive vocal tendencies.  At times in trying to invest every syllable with meaning and emotion, the effect instead seems mannered and contrived.  But overall it was a grand night for singing and perhaps the last time Charlottesville will be favored with Fleming's artistry and charm on stage.