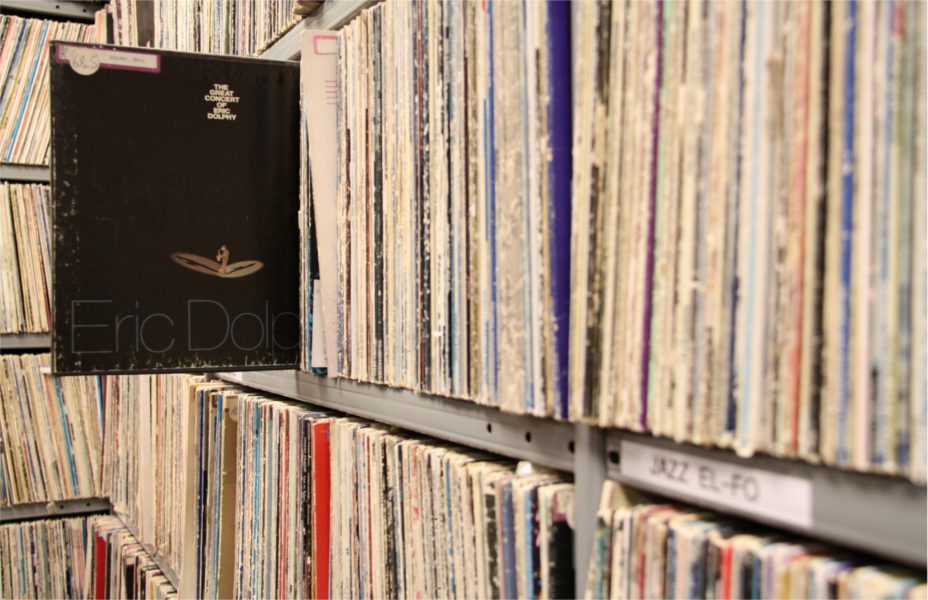 New Jazz Adds – 9/22/2015
New Jazz Adds – 9/22/2015
Ron Aprea – Pays Tribute To John Lennon & The Beatles (Early Autumn): Saxman / arranger Ron Aprea's closest connection to Lennon and the Beatles began when he was invited by his friend and fellow musician Steve Madaio (trumpet) to be part of the brass section on Lennon's Walls And Bridges in 1974. He has now reconnected with Madaio to record this selection of twelve Lennon and Beatles songs rearranged by Aprea for this large band, which includes Aprea (alto, tenor), Brian Lynch and Steve Madaio (trumpet), Bob Millikin (trumpet, flugelhorn), Steve Greenfield (alto sax), Frank Perowsky (tenor sax), Marc Schwartz (saxes, flute), Dom Minasi (guitar), Cecelia Coleman (piano), Tim Givens (bass), Vince Cherico (drums), George Hooks (percussion), Angela DeNiro (vocals), Matt Aprea and Marla Im (violins), Brett Walfish and Carrie Davids (violas), and Sam Quiggins (cello). The disc opens with Aprea's solo sax introducing what turns out to be a stunningly uptempo, swinging and wonderful jazz take on "Let It Be" that truly demonstrates musical reach of both the compositions and jazz itself. Click here for a sample from this disc.
Chick Corea & Bela Fleck – Two (Stretch / Concord Jazz): This second pairing of Corea (piano) and Fleck (banjo) is a live recording and a fantastic celebration of the individual and combined talents of both. Most of the songs were composed by one or the other with some outside choices that extend their coverage.  The latter include a tour de force performance of the standard Brazil, Bugle Call Rag, and the lovely Prelude en Berceuse (Henri Dutilleux). This performance is brimming with the joy, delight, and amazing art of both of these terrific musicians. If you like the music of either, this performance is definitely for you. If you're not familiar with either, there is no better introduction: two virtuosos celebrating their own and each other's art and the amazing possibilities and reach of music itself. Click here to listen to a brief interview about this disc.   Click here for a sample from the performance.
Orrin Evans – The Evolution Of Oneself (Smoke Sessions): Pianist Orrin Evans presents a musical representation of his life and growth in music, including a few surprising musical connections. All songs are presented from his current perspective and mostly done as a trio that includes bassist Christian McBride and drummer Karriem Riggins. Guitarist Marvin Sewell and vocalist JD Walter are each added on to a take or so. This recording was performed live in the studio and its rhythmic quality truly stands out. This is a melodic set featuring standards such as All The Things You Are and Autumn Leaves, a few unique covers like Grover Washington's A Secret Place and the country standard Wildwood Flower (fascinating version!), but mostly features Evans' originals. Even in the "blended" styles, melodic and rhythmic jazz is the prime element.  Click here for an introduction to this disc by Orrin Evans.
Jacob Fred Jazz Odyssey – The Battle For Earth (Royal Potato Family): This band originated in Tulsa, Oklahoma – 575 miles from Roswell, NM, but probably MUCH further away musically! The band is basically a freaky jam band with interstellar / electronic / sci-chedelic leanings. They've been recording since 2000 (don't you love that?) and on this, their fifth release, they're going for the whole planet! It's fun, somewhat freaky, and very kool! First of all, there doesn't seem to be a "Jacob Fred – earthling".  Secondly, the membership of this band has constantly shifted, but, at this point, the core is Brian Haas (piano, Moog bass, melodica), Josh Raymer (drums), and Chris Combs (guitar, lap steel, synthesizers). The liner notes claim that this session was captured live in October, 2014, but the government disavows any knowledge of that claim. If you relate to electronic, spacey funk, this performance will put a surge in you urge. Let your brain grove on the refrain. It's faaaarr out!!!  Catch this rocket ship on this link!  
Peter Kogan – Some Monsterful Wonderthing (Koganote): This is a disc of compositions and arrangements by drummer Peter Kogan, with the exception of "Live To Learn And Love Another Day" which was co-authored with Jonathan Kolb. The genesis of the group began in 2012 when the management of the Minnesota Orchestra closed down the orchestra sparking the formation of a public group SOSMN with the intention to "save our symphony". Kogan reflected on his past before he was a tympanist and recalled his earlier love of jazz. This disc is his second recording since deciding to try to "make something beautiful out of something ugly." In addition to Kogan on drums, the group features Pete Whitman (tenor sax), Charles Lazarus (flugelhorn), Scott Agster (trombone), Cory Wong (guitar), Sean Turner (piano), and Brian Courage (bass), with guest spots by Rogerio Boccato (percussion) and Tommy Barbarella (piano). The orchestra is back in action and fortunately this "wonderthing" continues as well. This is a wonderfully performed and swinging set!  Click here to listen to the title song.
Dave Liebman Group (Expansions) – The Puzzle (Whaling City Sound): "Why The Puzzle ? It's very simple. Improvising is a matter of solving a puzzle…a musical challenge. A worthy composition in this context provides an idea to be worked out during the improvising process. A famous example is the 'Giant Step' cycle that is 'Problem Solving 101' for all contemporary musicians…." (Liebman, in the liner notes).  In addition to Liebman (soprano sax, wooden flute), the recording features Matt Vashlishan (clarinet, alto sax, straw, EWI), Bobby Avey (piano, keys), Tony Marino (bass) and Alex Ritz (drums, frame drum) Their performance literally jumps across the air and swirls through your ears and brain! This is head music, but it is accessible as well and the listen is certainly rewarding.  Click here to check out the title song.
Bob Merrill – Cheerin' Up The Universe (Accurate): Bob Merrill (vocals, trumpet, flugelhorn, piano) selected the songs on this disc to create a "sampler capsule" for anyone in the universe who may have grown tired of the music samples sent out decades ago (1977) on Voyager 2 and to update his fellow earthlings as well.  The title song identifies the mission. In addition to this original, Merrill has included 15 of his favorite songs with a few updated lyrics and rearranged for the current players. The titles range from Burt Bacharach's  "What The World Needs Now" and John Lennon's "Imagine" to Randy Newman's "Political Science" and Pharaoh Sanders' "The Creator Has A Master Plan". His crew certainly seems to have "the right stuff" as well: Nicki Parrott (bass, vocals), Drew Zingg (guitar), John Medeski (keys), Matthew Fries (piano), John Van Eps (keys, vibes), George Schuller (drums), Vicente Lebron (percussion), and Russ Gershon (reeds, flute) with guest appearances by Harry Allen (tenor sax), Roswell Rudd (trombone) and Gabrielle Agachhiko (vocal). Click here for an introduction to this disc by Bob Merrill.
Dawan Muhammad – Gatekeeper's Blues (Lifeforce Jazz): Tenor saxophonist Muhammad is a leader of the Lifeforcejazz Artist Collective located in the San Francisco Bay Area and leads this group on his current disc. The focus of the disc and of previous Collective recordings is to revive the "'Cool,' post bop, medium swing sounds from the 1950's and 60's".  The group itself plays in a tight, often mellow, almost muted tone that supports the sense of reverence and revival. Muhammad composed three of the ten songs on offer, as did pianist Elmer Gibson; bassist James Leary and trombonist Clifford Adams contributed one each. The disc also contains a wonderful performance of John Coltrane's "Dahomey Dance". In addition to the players listed above, other performers include Oscar Williams and Bill Resh (flugelhorn), Modesto Briseno (trumpet), Wayne Wallace (trombone), Hafez Modirzadeh (alto sax), Matthew Clark and Richard Sears (piano), John Shifflett and Ryan York (bass), and Leon Joyce and Terrell Otis (drums). Despite the number of players listed, the performances are mostly quintets or sextets (with shifting participants).  Click here for a live performance by Muhammad, Sears and York from a decade back. I was unable to find samples from the current disc.
John Pizzarelli – Midnight McCartney (Concord): John Pizzarelli (guitar, vocals) offers a tribute to Paul McCartney performing thirteen McCartney compositions, half of which are credited as co-written by Linda McCartney. Pizzarelli also arranged all songs except "My Love" which was arranged by Larry Goldings. The sound is a pop / jazz melange featuring Martin Pizzarelli (bass), Helio Alves, Konrad Paszkudzki and Larry Goldings (keys); Kevin Kanner and Duduka DeFonseca (drums) with the addition of brass, strings and/or background vocals on several selections. Pizzarelli's offers an un-stylized and often plaintive vocal, which is greatly enhanced  when the background singers join in. His guitar is warm and classy.   Click here for a sample from this disc. 
Ariel Pocock – Touchstone (Justin Time): This is singer / keyboard player Pocock's debut release  and, in addition to her own composition ("Barrel Roll"), she chose a variety of musical styles to showcase her talents.  Her choices include compositions by jazz greats Thelonius Monk and Keith Jarrett; standards like "Exactly Like You" and "All The Things You Are"; and pop songs from James Taylor, Randy Newman and Tom Waits. Her voice is somewhat reminiscent of Norah Jones and she really shows her jazz vocal chops on "Exactly Like You" and "Devil May Care". Pocock is joined by Larry Grenadier (bass), Julian Lage (guitar), Eric Harland (drums) and Seamus Blake (tenor sax) and the group provides a solid and tight background for her piano and vocals. To my ears, she's most successful on the jazzier sides. Click here for a sample song from this disc.
Sam Taylor – My Future Just Passed (Cellar Live): Tenor man Sam Taylor and bandmates Aiden O'Donnell (bass) and Taro Okamoto (drums) are an outstandingly interactive trio. Practically every song here has a series of trading lines and everyone is in sync. Taylor has a wonderfully warm yet active style and Okamoto is one of the more melodic drummers I've heard in a good while. Their exchanges are especially head-turning. Most of the material here is taken from "The Great American Songbook" whether from Fred Ahlert and Rodgers & Hart or Sonny Rollins and Thelonius Monk and the interpretations by this trio truly stand out. Taylor also contributed two original compositions to the set. It's hip in the coolest sense (no sense looking of the "hot" jive here) and solid throughout. Click here for an introduction to this disc.
Jill Townsend Big Band – Legacy: The Music Of Ross Taggart (Cellar Live):  This is perhaps the greatest remembrance or gift a musician could receive: the late saxophonist/pianist/composer Ross Taggart's former colleagues, especially band leader Jill Townsend and colleague Bill Coon, arranged Taggart's own compositions for big band and recorded them. The band, featuring six reed players (some in transition), eight brass players, guitar, bass, and drums, has created a dynamic and swinging set that holds its own compared to a number of the better known big bands and is certainly recommended to fans of swing and post-swing big band performances. Click here for a promo about the making of this disc, including some performance segments. 
Kopasetically,
Bebop