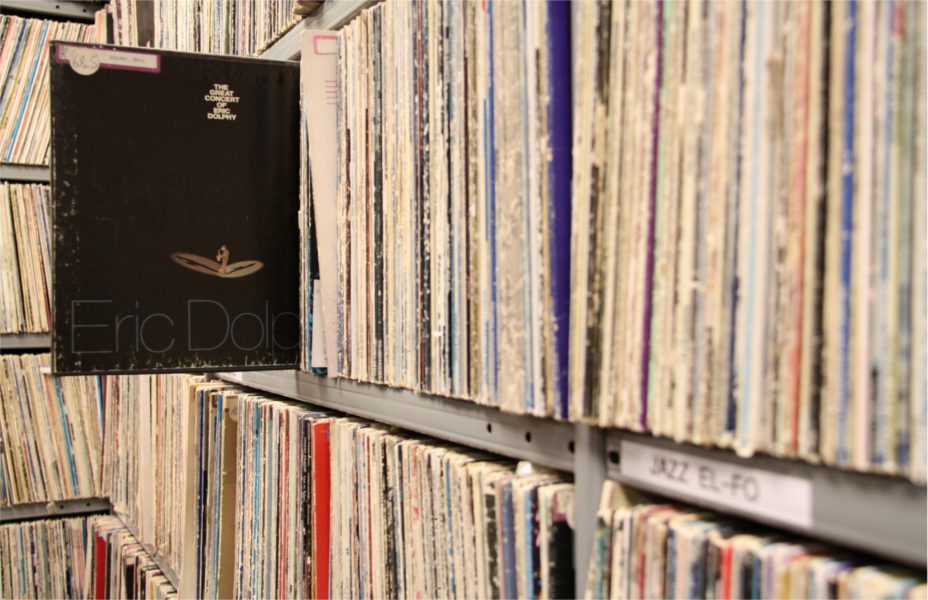 New Jazz Adds – 8/6/2015
New Jazz Adds – 8/6/2015
Dee Dee Bridgewater, Irvin Mayfield & The New Orleans Jazz Orchestra – Dee Dee's Feathers (OKeh): This music is high-stepping, sassy and forthrightly dramatic. Well, of course it is – there's the expressive voice of Dee Dee Bridgewater AND NOLA's own Irvin Mayfield (trumpet, vocal) and the New Orleans Jazz Orchestra. The Orchestra is a full scale group with LOTS of brass and a guest visit from Dr. John on "Big Chief" and what a version!  This disc would be a great introduction to the classic music and strut of the uptown style and sass, even if you've already been there. Click here for a discussion about the making of this disc. Click here to listen to the title song.
Terri Lyne Carrington – The Mosaic Project: Love and Soul (Concord): Here's an interesting project: arranger/drummer Terri Lyne Carrington explains, "Women are complex, having to challenge many kinds of stereotypes constantly, while holding on to the uniquely feminine qualities that softens everything around them. I've aimed to capture these women's ability to be raw and polished at the same time, to be thoughtful and honest and sweet in the expression love songs, and also the ability to throw down and "bring it" full force, like their male counterparts….I have tried to carefully craft a balance where the jazz elements that stir my curiosity naturally fit around the vocalists, without them having to alter three style…highlighting the soul in jazz and vice versa."  The singers include Natalie Cole, Chaka Khan, Oleta Adams, Jaguar Wright, Valerie Simpson, Nancy Wilson, Chante Moore, Lalah Hathaway, Paula Cole, Ledisi, Lizz Wright, and Ms Carrington herself.  My ears hear more of the pop soul than jazz, but if it's soul jazz, that may be the way it should be. You'll have to decide that for yourself. Click here for a short promo about this disc.  Click here to listen to a song from the disc.
Frank Catalano & Jimmy Chamberlin – God's Gonna Cut You Down (Ropeadope): Tenor sax player Frank Catalano and drummer Jimmy Chamberlin are the leaders on this disc and are truly front and center throughout, meaning they both solo throughout. They are supported by Demos Petropoulos (B-3), Scott Hesse and Eddie Roberts (guitars) and Mike Dillon (vibes) guesting on two songs. The prominence of the drums makes this disc stand out and brings the party on (given the style of the material). Click here for a sample cut from the disc.
Lafayette Harris, Jr Trio – Bend To The Light (Airmen): Harris is a veteran jazz pianist who was a student of Kenny Barron and toured with Max Roach for seven years. He has also been in several Broadway musicals, such as "The Color Purple", "The Full Monty" and "Bring In 'Da Noise, Bring In 'Da Funk".  The other trio members are Lonnie Plaxico (bass) and Willie Jones III (drums). They glide along with precision and joy.  This is a triumphant set that is sure to capture the ears of piano trio lovers everywhere. Click here for a sample from this disc.
De'Sean Jones Septet – Knomadik Reverence (Detroit Music Factory): De'Sean Jones is a deep  writer and player (tenor sax) who has performed in a wide array of musical settings – working as a backup musician for other groups, such as the Grammy winning Clark Sisters (gospel); as a contributor and playing member of Underground Resistance, a Detroit electronic music collective; and as a music educator mentoring students and participating in school and university music outreach programs. The Jones' Septet includes Matthew Adomeit (bass), Chase Jackson (vibraphone and composer of two songs on this disc), Aaron Janik (trumpet), Shea Pierre (piano), Conrad Reeves (guitar) and Austin Vaughn (drums). The music is a complex blend shifting tones, some gentle and some intense passages, and while clearly being jazz-based, includes elements of R&B as well. It's music of the head and body.  Pay attention to this man and his group. We may very well hear his name and music big time as he continues to grow and create new jazz settings. Click here for a live version of a song on this disc. Performance is 2 years old and the sound is not great. This is the "farthest out" tune on the disc.
Brad Myers – Prime Numbers (Colloquy):  Debut disc by guitarist Brad Myers, who wrote six of the songs and produced the release. Band members include Chris Barrick (vibraphone), Ben Walkenhauer (tenor), Peter Gemus (bass) and Ton Buckley (drums), with guests Maichael Mavridoglou (trumpet, flugelhorn) and Dominic Marino (trombone) joining in on a couple of numbers. The band has a wonderful sound reminiscent of the Blue Note sound in the 60s and 70s. The large, warm sound of the tenor sax floating above the harmonious blend of the vibes and guitar. The sound and performance style fit the covers (Monk's "Evidence" and Shorter's "Big Push") beautifully as well. Click here for a live version of a song on this disc.
Michel Nirenberg – Retrato / Portrait (Carioca): Reedman Nirenberg (saxes, clarinet) delivers his first recording as a leader and it is an ambitious and alluring merger of jazz and Brazilian music. The additional players Dani Cortaza (guitar), Alejandro Lucini (drums, percussion), and Leonardo Lucini (bass) with guest contributions by Alex Brown (piano), Bruno Lucini (percussion), Rogerio Souza (guitar) and Julia Teixeira and Daniel Gralewski joining Nirenberg singing the one vocal on the disc. The music drifts from one style to the next in a subtle and tasty manner so that the listener hears nuances of Brazilian styles giving way to jazz and then echoing Nirenberg's classical training and skill. At the same time, it almost seems that this is "carnival" time.  BTW, Nuremberg and band live in Silver Spring, MD and frequently perform in DC. Click here for a promo for this disc.
Laura Otero – From Noche To Night (Destiny): Laura Otero is a veteran stage performer and has many studio performances to her credit. Her most recent disc targets a meld between her native Colombian music with jazz. Otero has a very nice voice and arranged half of the songs on this disc. She is supported by Andrew Friedrich (guitar), Richard Mikel (bass), Daniel Dufour (drums), and additional instruments (various saxes, clarinet, cello, violin, accordion) added to specific songs give the disc significant variety. Click here for a sample song from the disc.
Chris Pasin – Random Acts Of Kindness (Planet Arts): Holder of two Bachelor's degrees (jazz and classical) from the New England Conservatory of Music, Pasin's path has included playing and recording with Gunther Schuller, Jimmy Guiffre, George Russell, and Jaki Byard, a two year gig with Buddy Rich and several years with the Toshiko Akiyoshi/Lew Tabackin big band. He then sought a career outside of music until fairly recently when his children began to show great interest in performing. That brings us to the present disc (his second). All seven songs are Pasin originals and they cover quite a range. In addition to Pasin's trumpet, the band includes Mark Kleinhaut (guitar), Wayne Hawkins (piano), John Menegon (bass) and Dave Berger (drums).  Click here for a sample from this disc.
Jamison Ross – Jamison (Concord): This is drummer/vocalist Jamison Ross's first disc and it presents a number of surprises: the 2012 winner of the Thelonious Monk International Drums Competition focuses more on his singing than his drumming; he is, in fact, a terrific singer with great control and style; he begins the disc with Muddy Waters' "Deep Down In Florida" given a nice New Orleans spin, then sings straight jazz with style on an original entitled "Emotions" and closes with a tour de force gospel interpretation of "Bye Bye Blues;  his drumming, featuring lots of subtle restraint and a sharp focus on accents, is far more mature than one might expect.  The other players on various cuts are Rick Lollar (guitars), Chris Pattishall (keys), Corcoran Holt (bass), Dayve Stewart (tenor), Alphonso Horne III (trumpet), Cory Irvin (B-3) and Jonathan Batiste (piano). Click here for a brief promo of the disc.  Click here to listen to a song from the disc.
Various Artists – Live From Litchfield Jazz Festival: 20 Years Of Great Jazz (Self-produced): Litchfield, Connecticut has hosted an annual jazz fest for the past twenty years and this disc is intended to spotlight some great performances and to raise funds to support financing for the Litchfield Jazz Camp. The collection presents Dave Brubeck (2001), Eartha Kitt (2005), and some incredible performances like "Mad Bop" (Luis Munoz, 2005), "Continuing" (Marlo Pavone Orange Double Tenor, 2010) and "Raga" (Matt Wilson Plus Strings, 2011) that really push the envelope! Click here for a live performance by pianist Helen Sung at Litchfield in 2012. Note: this particular song is not on the disc, but she is.
Frank Vignola & Vinny Raniolo – Swing Zing! (Self-produced): Frank Vignola and sidekick Vinny Raniolo offer up a collection of pop standards ranging from "Cheek To Cheek" and "Cry Me A River" to "Stardust" and "The Best Things In Life Are Free".  Their guests (Olli Soikkell, Bucy Pizzarelli, Audra Mariel, Gary Mazzaroppi, Gene Bertoncini and Julian Lage) also bring variety of style across the disc in this smorgasbord of jazz guitar.  The tour de force is "Tico Tico / Djangomania" an amazing display of dazzling speed and sound.  Click here for an introduction to this duo.
Kopasetically,
Bebop