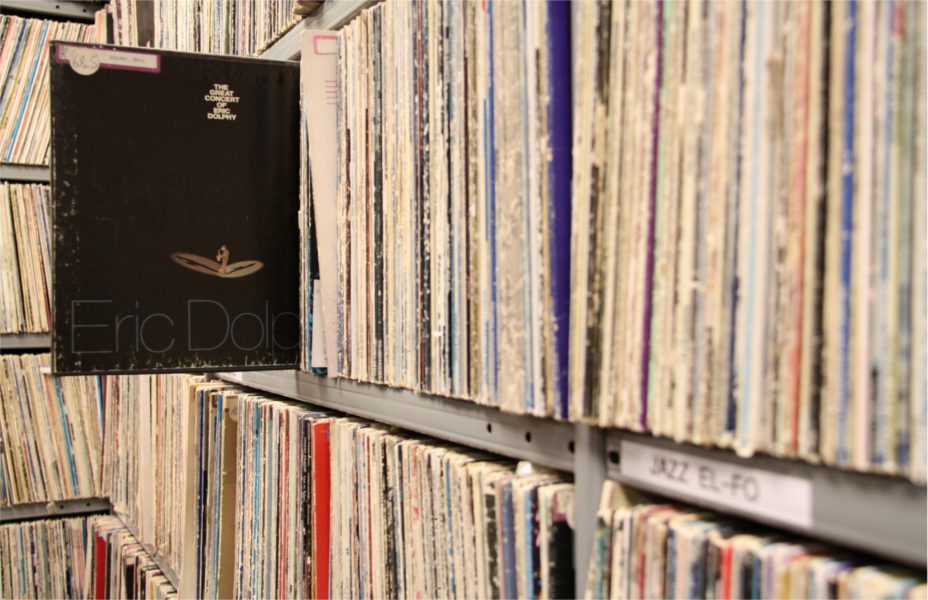 New Jazz Adds – 6/14/2016
New Jazz Adds – 6/14/2016
Afro Peruvian New Trends Orchestra – Uniting Beats (Bluespiral): Corina Bartra has been a force in Afro-Peruvian music for many years and is considered the world's top expert in this musical combination. She regularly acknowledges the impact of African music, not only in Peru but throughout the Americas. She composes for and directs two distinct groups in this presentation of one traditional Afro Peruvian song, ten of her own and one contribution by Amadis Dunkel. The two musical groups are (1) Hyuna Park (piano), Michael Gam (bass), Vince Cherico (drums), Perico Diaz (cajon, congas and bongos), Jay Rodriguez (sax), Amadis Dunkel (trombone), Jonathan Saraga and Bryan Davis (trumpet),Todd Anderson (tenor sax), and Charle Lee and Eric Neveloff (alto sax); and (2) Zaccal Curtis (piano), Moto Fukushima (bass), Vince Cherico (drums), Perico Diaz (cajon), Andy Hunter (trombone), Sam Hoyt and Justin Mullen (trumpet), Todd Anderson (tenor sax), Bruce Williamson (alto sax), and Derrick James (alto sax, flute). Energizing and interesting!  Click here to listen to samples of the songs on this disc.    
J.D. Allen – Americana: Musings On Jazz And Blues (Savant): JD Allen blows the tenor sax and draws his inspiration on this disc from the blues  – the deep blues. To him, this is the foundation of the music we call "Americana".  The music is steeped in the blues and has its own trajectory on the jazz avenue. His tenor is smooth, even majestic like a reference to Coltrane. At the same time, the arc is a tangent – not a reflection of Africa, but a reflection of the sensitivity of the blues meshed with reach of the its emotion brings to jazz. Allen is supported by Gregg August (bass) and Rudy Royston (drums) and together they are a bridge or extension of the way the early blues, off-stage in big cities, affected jazz itself. Americana just stretched another further!  Click here and scroll down to listen to samples of songs on this disc.    
Wayne Bergeron – Full Circle (Self-produced): Bergeron' big band honors the great big bands of the past as well as seeks to keep the power and glory of big bands in the ears of those of us who have forgotten or never knew the many styles they cover. The offerings range from movie themes ("China Town", "James Bond Medley") through several styles like Latin ("Full Circle") and a focus on the POWER of big bands. That means there must be some HOT brass and there is: trumpets, typically at least four on each selection, by Dan Fornero, Gary Grant, Rick Baptist, Larry Hall, Wayne Bergeron, Chuck Findley, Rob Schaer and Jamie Havorka; trombones: Andy Martin, Alan Kaplan, Bob McChesney, Bill Reichenbach, Charlie Loper, Alex Iles, and Steve Holtman; and a host of reed players and rhythm section players! Special guests include Arturo Sandoval (trumpet), Peter Erskine and Dave Weckl (drums), Eric Marienthal, Bob Sheppard, and Gary Meek (saxes), Alan Pasqua (piano), Jimmy Johnson and Chuck Berghofer (bass). Click here and scroll down to listen to samples of the songs on this disc.   
Etienne Charles – San Jose Suite (Culture Shock): One of the most amazing aspects of jazz is the blending of music styles from around the world, continually refreshing the form and the listeners' appreciation for the power and beauty of this art. Trumpeter / percussionist Etienne Charles is a case in point. Well recognized as an exceptional composer and performer, he presents an ever more complete assimilation of jazz and music of the Caribbean. In the words of Charles' former teacher, pianist Marcus Roberts, "..Etienne Charles exhibits both an authentic preservation of the music of his native culture of Trinidad as a composer and bandleader, while broadening our scope of understanding through the collaborative sound of American jazz as it meets new colors, new textures, and new motifs across the world."  There are many textures to the music presented here, from sweet and flowing Latin-influenced jazz to edgier tension of the percussive "Revolt" to the dreamy tension of "Juego de los Diablitos" and the funky political remembrance and commentary by Dr. Harry Edwards with Charles and band in support. In addition to Charles' trumpet and percussion, supporting musicians include Brian Hogans (alto sax), Alex Wintz (guitar), Victor Gould (piano, Fender Rhodes, organ), Ben Williams (bass), and John Davis (drums). Click here for a brief introduction by the band.   Click here for an explanation of the musical influences that are foundational to the disc.   
Cyrus Chestnut – Natural Essence (HighNote): Pianist Cyrus Chestnut is a delight and his performances, whether live or recorded, transmit joy to his listeners. This is his second release on HighNote and he is accompanied by bassist Buster Williams and drummer Lenny White. The trio setting certainly accents the joy and beauty of Chestnut's playing. Of course, Williams and White are both exquisite players as well. This disc contains two Chestnut originals and one each by Williams and White as well as wonderful standards such as "I Cover The Waterfront" and "My Romance".  Click here to listen to samples from this disc.   
Theo Croker – Escape Velocity (OKeh): Composer/arranger/trumpeter Theo Croker is an adventurous player and designer of soundscapes that blend hot bop with lush textures, electronic effects, and occasional vocals. He is clearly the leader but it is the unity and cohesion of his compositions and these recordings that stand out. In addition to trumpet, Croker also plays was way trumpet and programs musical sequences and is supported by Eric Wheeler (bass), Michael King (Fender Rhodes, minimoog, piano, organ), Irwin Hall (alto sax, bass clarinet, flutes), Ben Eunson and Femi Temowa (electric guitar). A multi-faceted, soul jazz gem.  Click here for a live performance of a song on this disc.   
Kenny Garrett – Do Your Dance! (Mack Avenue): Veteran alto sax/flute player/composer Kenny Garrett has an impressive bio that includes early stints with the Duke Ellington Orchestra (under Mercer Ellington), Miles Davis (electric years), and recordings with a host of jazz greats including Chick Corea, Art Blakey, Herbie Hancock, Pharaoh Sanders, Ron Carter and Brad Mehldau among others. He has recorded as a leader since 1984. This recording features nine original compositions performed with backing provided by Vernell Brown Jr (piano), Corcoran Holt (bass), Ronald Bruner Jr and McClenty Hunter sharing drum duties and a guest appearance by rapper Donald "Mista Enz" Brown Jr. The music itself swings in an upbeat and melodious groove. Click here to listen to songs on this disc.   
Monika Herzig – The Whole World In Her Hands (Whaling City Sound): Composer/pianist/bandleader Monika Herzig is on a mission with this disc: namely to add a new chapter to the story of female jazz players and bands. In the liner notes, she first addresses the trials women faced being accepted as bandleaders in jazz,(and often in any capacity other than singing or dancing), even citing her own experiences and then has pulled together an all female ensemble to demonstrate that gender is in no way an indicator of quality.  Herzig composed five songs, arranged another, and selected the remainder by female composers. Players in addition to Herzig whose piano playing is stellar, include a constantly changing line-up of bassists Linda Oh,  Anna Butterss and Jennifer Vincent, who also plays cello; Arianna Fanning and Mayra Casales (drums & percussion); Leni Stern (guitar); Jane Bunnett (soprano sax, flute); Jamie Baum (flute); Lakecia Benjamin (alto sax); and Reut Regev (trombone).  Click here and scroll down to catch a youtube and further down to listen to three additional songs on this disc.    
Brad Mehldau Trio – Blues And Ballads (Nonesuch): Pianist Brad Mehldau steps out in trio style on this disc. He has sought out some great selections from mostly unexplored songs by composers Cole Porter ("I Concentrate On You"), Charlie Parker ("Cheryl"), Lennon & McCartney ("And I Love Her" and McCartney's "My Valentine" and tosses in chestnuts like "These Foolish Things (Remind Me Of You") and a wonderfully invention version of Buddy Johnson's "Since I Feel For You".  He really takes his time interpreting some of the songs and it is on those numbers that his greatest improvisational talents show up. Generally, a very mellow set. Click here to listen to a sample song.   
Scott Neumann / Tom Christensen – Spin Cycle (Sound Footing): Drummer Scott Neumann and tenor/soprano sax player Tom Christensen are the listed leaders here, presumably because they composed all of the songs on the disc, but their webpage actually says that in addition to being the name of a song and the disc, "Spin Cycle" is the name of the band. Guitarist Pete McCann and bassist Phil Palombi complete the quartet. Individual members have played in a terrific variety of musical settings and collectively they tackle a wide range of styles. This description from their webpage captures them exactly: "…a collaborative band that can be lighthearted, serious, funky or abstract but always with a groove and without musical boundaries. A single song might contain influences from modal Coltrane, introspective free jazz, New Orleans funk or the no holds barred energy of punk."  They are, indeed, terrific collaborators and wonderfully inventive. They'll take you on a ride, but it is a great trip! My favorite interactions take place during the musical interweaving between Christensen and McCann. They can obviously can light up any room when they turn themselves loose – lots of fun and very groovy!  Click hear and scroll down to listen to a couple of samples from the disc.   
One For All – The Third Degree (Smoke Sessions): This hard bop band was formed 30 years ago and, since that time, there has only been one change in the personnel. This line-up has been in tact for the past two decades! They clearly know each other's work and they are a fluid unit. All but one song here, Rodgers' and Hart's "It's Easy To Remember", is original. They named themselves "One For All", taking the title of Art Blakey's Jazz Messengers' final recording. Just as everyone in the group contributed at least one composition, everyone gets solo time on this disc. Tenor man Eric Alexander gets the smoking gun award in this set, but everyone gives a solid performance. I regret I cannot find a sample from this new disc, but click here to listen to a performance from 2012.   
The Verve Jazz Ensemble – Perimeter (Self-produced): This quintet features Jon Blank (tenor sax), Josh Feldstein (drums), Tatum Greenblatt (trumpet), Steve Einerson (piano), and Elias Bailey (bass) on five originals and four covers, including Alone Together and On Green Dolphin Street. The unit is tight throughout as they shift styles and each player offers his own voice as well as blending seamlessly with the group and they do swing. Five great players, individually and collectively, nice variety, swing and melody. What's not to like?  Click here to sample the songs on this disc.    
Kopasetically,
Professor Bebop