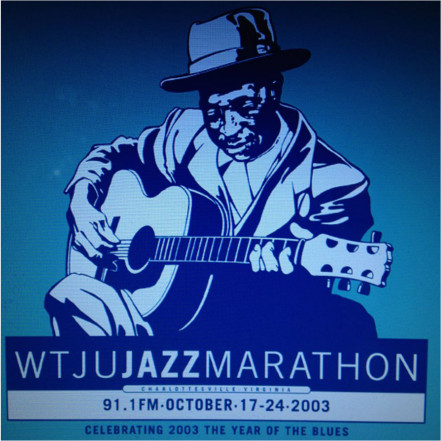 New Blues News – 6/4/2015
New Blues News – 6/4/2015
New Blues News – LIVE Blues on TJU's Lambeth Live!
June 5 – Mississippi blues man Sherman Lee Dillon
June 12 – Johnny B & The Goodes (Johnny Bishop on harp, Matt Kelley on guitar, Steve                                 Riggs on bass, and Drex Weaver on the drums)
June 19 – Red Rooster (early country blues)
"Lambeth Live" broadcasts from 8:00 – 9:00 on Friday evenings. Listen on 91.1 or wtju.net or come on down to Lambeth commons (the outer room of the home of WTJU) and catch it in person!  Free admission!
AND another great Cville BLUES EXPERIENCE this SUNDAY:
On Sunday, June 7, from 1:30 to 3:30 pm at Durty Nelly's, The Screaming Targets, Charlottesville's first blues band, will perform for the first time since 1975. The original lineup will play great songs by Little Walter, Buddy Guy, Little Feat, and many others.
The Screaming Targets are:
Don Jones: harp, vocals
Steve Pentecost: piano
Sandy Gray: guitar
Paul Hammond: drums
Charlie Pastorfield: bass
New Blues Adds:
Blue Plate Specials – Servin' It Up! (Lanark): Somewhere between swing, retro swing and rock'n'roll is the destination this revival band seeks with this new disc with all new compositions by group leader Charlie Frey (g, vox). The band also includes Alan Sheltzer (keys), Walter Beier (reeds), Ken Bernardo (b), and Ted Hordeski (d) with a guest appearance by Mickey Dean Fisher (g). The band plays more comfortably on the songs connected with the more recent rockin' (roll or blues) style than the swing-connected styles. Pick tunes: "Heartache and Cigarettes", "Cruisin' Past Bakersfield" and "I Need A Car".   Click here for a live sample of the opening song on this disc.
Diane Durrett – Soul Suga (Self-produced): Two decades into her performing career, Durrett has a style somewhat reminiscent of New Orleans, but actually is based in Atlanta.  This disc covers a lot of ground, most of which is aimed at having a good time!  You only get a few bars into the opening tune "Show Up Sexy" before you know this lady intends to rave it up and just in case you think she's through, she immediately follows up with more advice if you plan to be a really good cook in "Butters In The Skillet". Her voice is a strong, declarative instrument only tempered by the fact that she doesn't care to be a shouter. She also shows off her guitar and piano chops on a third of the songs on this disc and she wrote or co-wrote all but one of the songs. Durrett also offers some nice ballads, including "Be Somebody's Angel" featuring Randall Bramlett and "I Know Your Nothings" and there's a good helping of dance songs, like the slick "Push The Push Back" and "Let Go & Let It Groove", followed by a NOLA cousin "Sassy Larue" and a slice of the naughty, featuring Tinsley Ellis called "Woohoo".  Other musicians include Yonrico Scott and Melissa "Junebug"Massey (drums), Ted Pecchio (bass) and too many others to name on a variety of instruments and songs.  It's a GOOD time.  Check it out.  Click here for a live duo version of a song on this disc.
Duffy Kane – Dead Man Walkin' (Freedom Train): Singer / songwriter / guitarist Kane is an intriguing blend of talents and attitudes: he composed all of the material on this disc with the exception of a unique version of "America The Beautiful". His guitar style is a blend of country and blues rock (his tribute to Danny Gatton and Roy Buchanan – "Danny Buchanan" showcases a blend of both's signature styles and "Why My Road" is so reminiscent of Stevie Ray Vaughan's guitar performance on "Texas Flood" it is startling). "Sweeter Than" is a rocker with touches of Hendrix mixed with the above influences. "Growing Up Tree" is a loving ode to his grandmother.  On the country side, there is an instrumental that recalls Speedy West and Jimmy Bryant and two unusual cornball tracks: "Roadhouse Boogie Woogie"  (a spoof about a young woman in a bar hitting on and flabbergasting Kane's bass player (40 years her senior) and a bizarro tale/spoof unsuspiciously entitled "Truck Driving Man" (the folks who put out the "Twisted Tales From The Vinyl Wastelands" will love this).  It is, however, Kane's political commentary that pulled, startled and forced me to examine both his and my own thoughts. The songs "Dead Man Walking", "Son of the Republic", and "Eyes Of The World" contain intensely passionate and foreboding references to the decline and potential collapse of the ideals upon which the US was founded.  He sings of a loss of freedom ("seeing a whole lot of red and not a lot of white and blue", government spying on citizens, the loss of freedom of speech – "don't even try to mention Jesus"). The source of the threat is not only the government, but also the biased media and societal alienation and greed. Our collapse seems inevitable and biblical: Kane warns us of the retribution of God's "swift sword". The effect is powerful.  Listening to this disc also reminded me that I don't often respectfully listen to perspectives different from my own and it has prompted me to re-examine my own prejudices.  In that way, I would say this is a very important release. Click here for an instrumental from this disc.  None of the vocals mentioned are available on youtube.
Sonny Landreth – Bound By The Blues (Provogue): Sonny Landreth is back with a stronger blues focus than he has had in a good while (though his singular guitar style is as incredibly amazing as ever).  Supported by bassist David Ransom and drummer Brian Brignac, Landreth brings us a selection of classics, such as "Walkin' Blues", "It Hurts Me Too", "Dust My Broom" and "Key to the Highway" as only he could and several originals that will flat domino your lame act!  Unlike some of his more recent studio work, this disc does not include overdubs and reminds us how singular, beautiful and complete his style is.  My only advice is buy the disc, play it, and get tickets to see him at The Southern on June 18.  Click here for a live version of a song on this disc.
Click here for a live performance of a blues song on this disc.
Mitch Mann – Blackwater Creek (Crazy Chester): Singer / songwriter from Muscle Shoals playing a set of mostly original material.  The sound is generally folksy and lyrical, though he does shift gears with with the assistance on harmony vocals, including Scott Boyer (Cowboy) on one song. Andreas Werner provides reso tele and harmonium on one song each, Jimmy Hall (harp) and Charles Rose (trombone) and Harvey Thompson (sax).  The sound is folksy Americana.  The highlight to my ears is the title tune, a beautiful instrumental solo by Mann on guitar.  Click here to hear a sample from this disc.
Kopasetically,
Professor Bebop