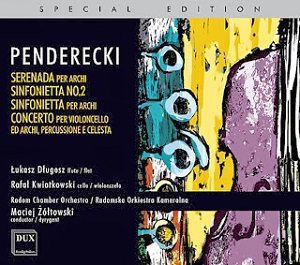 Krzysztof Penderecki: Works For String Orchestra
The purpose of this recording is to showcase the Radom Chamber Orchestra. The CD booklet begins with a letter from the mayor of this Polish city outlining the proud musical history of the town, and its cultural rebirth, of which the Radom Chamber Orchestra is a part.
Well, it's a good start.
The ensemble has a warm, rich blend with strong section leaders. The talent of those first chairs comes to the fore quite often in the works on this program and they perform admirably. The music is also well-suited to the ensemble. There seems to be an intuitive understanding of what fellow countryman Kryzysztof Penderecki had in mind with these works, and the Maciej Zoltowski and the Radon Chamber Orchestra deliver.
In these performances, Penderecki's music doesn't seem as dissonant — and yet there's an undercurrent of power to them. The 1990 Sinfonietta for Strings, for example, reminded me quite strongly of Shostakovich's Chamber Symphony, Op. 100. It had the same overall sound, and carried the same emotional intensity.
The Serenade for Strings is perhaps the most atonal of the works. It gradually builds to a satisfying climax from the simplest of melodic ideas. Pendericki's Sinfonietta No. 2 for flute and strings isn't quite a concerto, although the flute does have a prominent role. Lukasz Dlogosz plays with a plaintive introspection that gives the work emotional weight.
The Concerto for Viola and Strings, Percussion, and Celeste (performed here in it's cello concerto version) begins as a very quiet work. The cello develops the melody in short, hesitant gestures. Once the full ensemble enters, though, the work changes character, becoming stormy and brooding. A powerful composition.
Krzysztof Penderecki: Works For String Orchestra
Likasz Dlugosz, flute; Rafat Kwiatkowski, cello; Radom Chamber Orchestra; Maciej Zoltowski, conductor
DUX