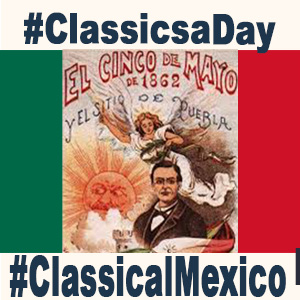 #ClassicsaDay #ClassicalMexico Week 5
The Classics a Day team decided to turn a holiday — Cinco de Mayo — into a month-long celebration. Mexico has a rich classical music tradition. It dates back to the early 1600s when Spanish — and very soon native-born — composers began writing music for church services. And today Mexico has a thriving classical music community. Even if we're not aware of it here in the States.
Mexico has four centuries of classical music to choose from. Here are my selections for the fifth and final week of #ClassicalMexico.
05/29/23 Silvestre Revueltas (1899–1940): Cuarteto de cuerdas No. 2 "Magueyes" 1931
The second of Revueltas' four string quartets was composed in the late 1920s. It wasn't published until 1953. Discrepancies between the published version and the original manuscript suggest the publisher used a later revised version of the work, now lost.
05/30/23 Eduardo Hernández Moncada (1899–1995): Sinfonia No. 2
1942 Moncada was part of the Nationalist Movement of the 1920s. He wanted his music to embrace and celebrate the traditional folk music of Mexico.
05/31/23 Alfonso de Elias (1902-1984): Concertino para violín y orquesta
de Elias is considered to be the last Mexican composer to compose in the Romantic Style. His Concertino for Violin and Orchestra was written in 1967 and is based on a well-known folk tune.
Next month: