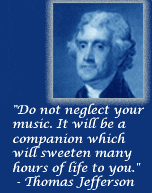 What is Classical Music? Part 4 – Concerto Concerns
Continuing the discussion of what makes classical music classical. My basic rule of thumb is that classical music is primarily the creation of a single creative voice. Brahms came up with the ideas for his first symphony. He wrote out the sketch score (didn't hire an arranger), he orchestrated it (didn't hire an orchestrator), he edited it — the music is the product of a single musical mind.
But there's lots of exceptions to that rule — including one most people aren't aware of — concertos.
These days you can expect to go hear a performance of a Mozart piano concerto and — if you're really familiar with the work — will know every note, even the cadenza. It's not to say that the performance can't be thrilling, but it will most likely run down the rails laid down by Mozart in his music.
Except that he wasn't that strict — and neither were other classical and romantic era composers. When Mozart wrote his piano concerti, it was expected that the soloist would improvise the cadenza (that part near the end of the first movement when everybody stops playing).
In fact, if you pay attention, you can still hear a vestige of that tradition. In most concertos the soloists' cadenza ends on a single trilled note. Originally that was the signal for the orchestra to come back in. This improvised cadenza concept is one still used in jazz, but has mostly vanished in classical music.
By the mid 1800s' composers (and prominent performers) were supplying written-out cadenzas for soloists as an option. Eventually they became standard, and during the 20th Century it was rare that a cadenza was left to chance.
But there's still some remaining messiness. A particular cadenza may be the commonly used one for a concerto — but if it's not by the composer does it matter? What about other versions? What about a performance where the cadenza is improvised?
This is another exception to my general rule that simply lands on the side of taste. If it sounds good, if the cadenza makes sense musically with the concerto, then I'll probably program it. But that's just me.
Part 1 – What is Classical Music at WTJU?